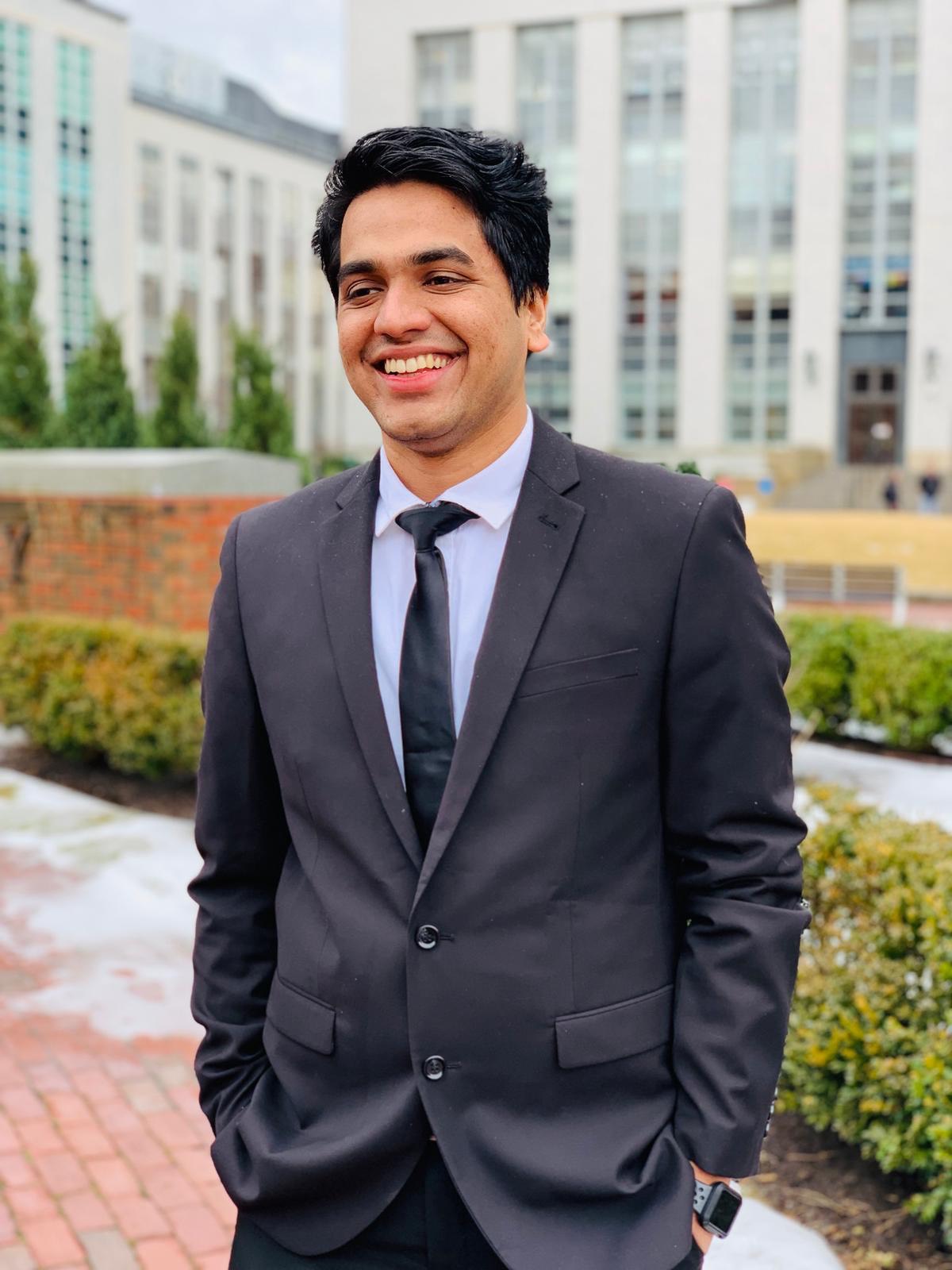 Anjaneya Naik
UX designer at TracFlo
LANGUAGE
HERO
Learn survival phrases of a new language!
Language Hero
My friend secured an internship in Spain, But he didn't know Spanish. He faced many difficulties while learning a new language from English. He used various apps but still, he was not confident in Spanish. So to help my friend learn the bare minimum of a language, Language Hero was started.
What I did:
Quantitive and Qualitative Research, Ideation, Prototyping, Surveys,
Tools:
Sketch, Optimal Sort, Balsamiq, Adobe Illustrator.
Design Challenge
"How might we create an application which helps users to learn the bare minimum of a language"
Problem Space

Helping travelers and users to learn the necessary minimum of a language so that they can interact with users using the essential phrases to enjoy their stay in a new country. Learning a new language is very difficult for users.

FSI research indicates that it takes around 480 hours to reach basic fluency in group 1 languages, and 720 hours for group 2-4 languages. (Group1: French, German, Indonesian, Italian, Portuguese, Romanian, Spanish, Swahili.
Group2: Bulgarian, Burmese, Greek, Hindi, Persian, Urdu) Source
Who are my users?
Anyone trying to learn a new language.

Anyone traveling to a new country.

Duration of the project
Summer 2018

Competitive Analysis
At the discovery phase of my project, I conducted a competitive analysis of language apps in order to get a better understanding of the problem. Some of the apps which I researched for this project are Duolingo, Rosetta Stone, Hello English, and Mesmerize
Learnings from these Apps:
Duolingo: Duolingo is a freemium language-learning platform that includes a language-learning website and app, as well as a digital language proficiency assessment exam. As of January 2019, the language-learning website and app offer 85 different language courses in 24 languages. One of the significant disadvantages of Duolingo has no natural sounding conversations. You can only see short phrases and sentences. With the help of Duolingo, you have a limited set of sentences which hardly has any survival phrases required to survive a new country. Duolingo has no option to chat with native speakers.
Hello English: As the name suggests helps you to learn English from any other language. For example, you can learn English from Hindi, English from German. It is a good app where users can learn English using Hello English's method of determining a language by reading, watching videos and reading articles in English. Some of the disadvantages of Hello English is there is no option of learning English from Spanish,(Spanish is the most used language after English)
Rosetta Stone: Rosetta stone is a paid application and doesn't allows you to learn the language without paying for its service. Also Rosetta stone gives users to learn a new language by use of images since images are easy to remember, makes learning new language fun. Some of the bad user experiences from Rosetta Stone is that it forces users to signup without even letting users have a demo of the app.
Mesmerize: Mesmerize is a free app which helps users learn a new language from English. It has a wide range of foreign languages. It has a vast library of literature. However, the drawback is users can't save words which they get it wrong. Instead, users have to restart the challenge again which hinders the user experience or google about its meaning of the word.
Summary :
Each of these apps takes a very long time for learning a new language, Users need an app which helps them to learn only the bare minimum of the language so that users have a great time at the country.
Surveys
After conducting a competitive analysis of all apps, I wanted to gather feedback from the users who have faced problems while visiting a new country and also with users who learned a new language from scratch. I conducted interviews with users both offline and too by conducting online surveys.
The survey was conducted both online by conducting Skype Interviews, and also studies were conducted offline.
UXPA and BostonChi community of Boston were beneficial for conducting user interviews and helping me with this survey.
I was able to interview around five people for this project who had faced this same issue.
Some of the exciting findings after interviewing users were that frequent travelers need a way to communicate with residents of the country they are visiting. It would be a very excellent user experience for travelers if there were an app which would help them with survival phrases and also help them translate important things to English.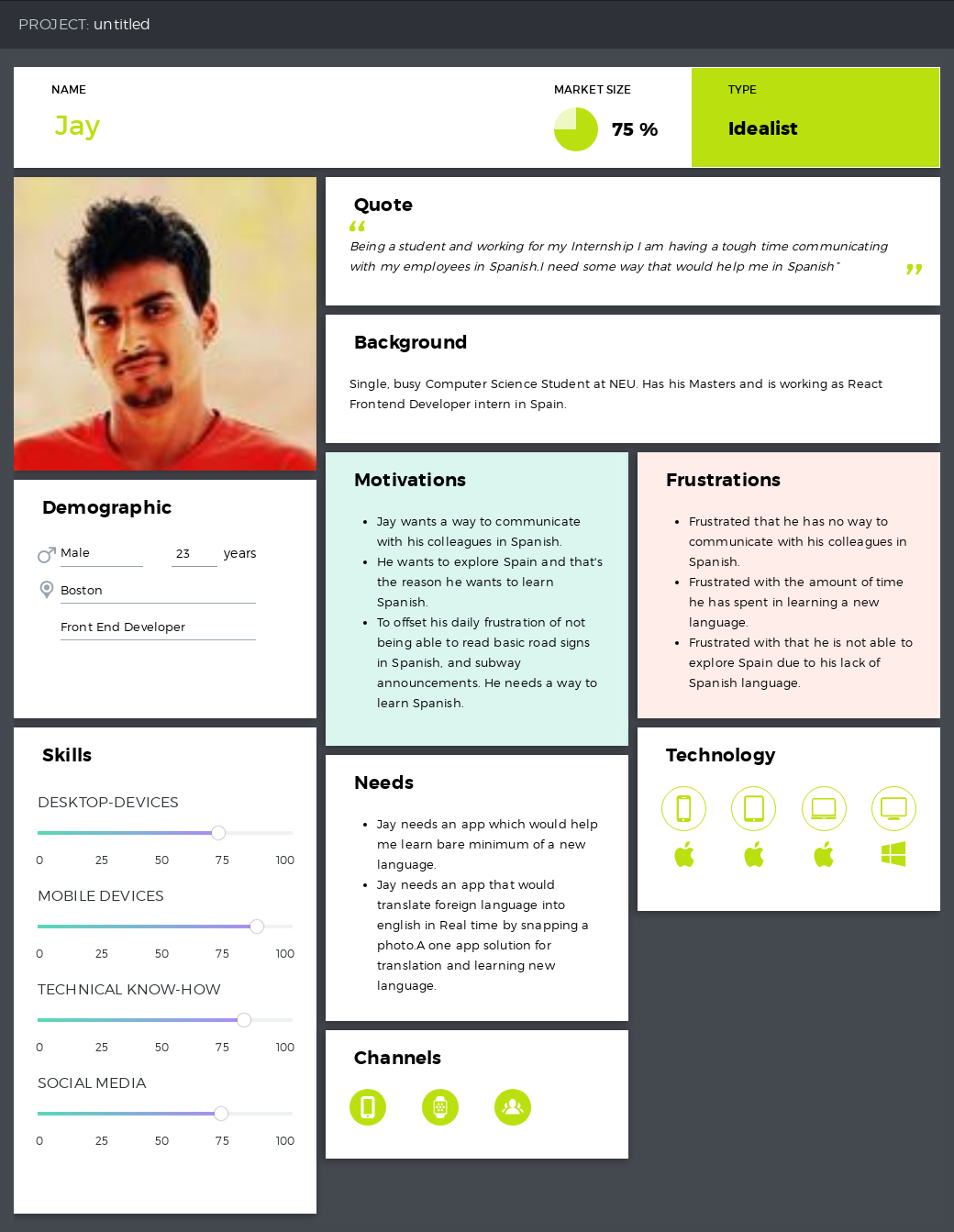 Personas
Jay is a Northeastern University Student and is going for his co-op in Spain. He needs to learn Spanish so that he can communicate with his colleagues and have a great summer internship in Spain.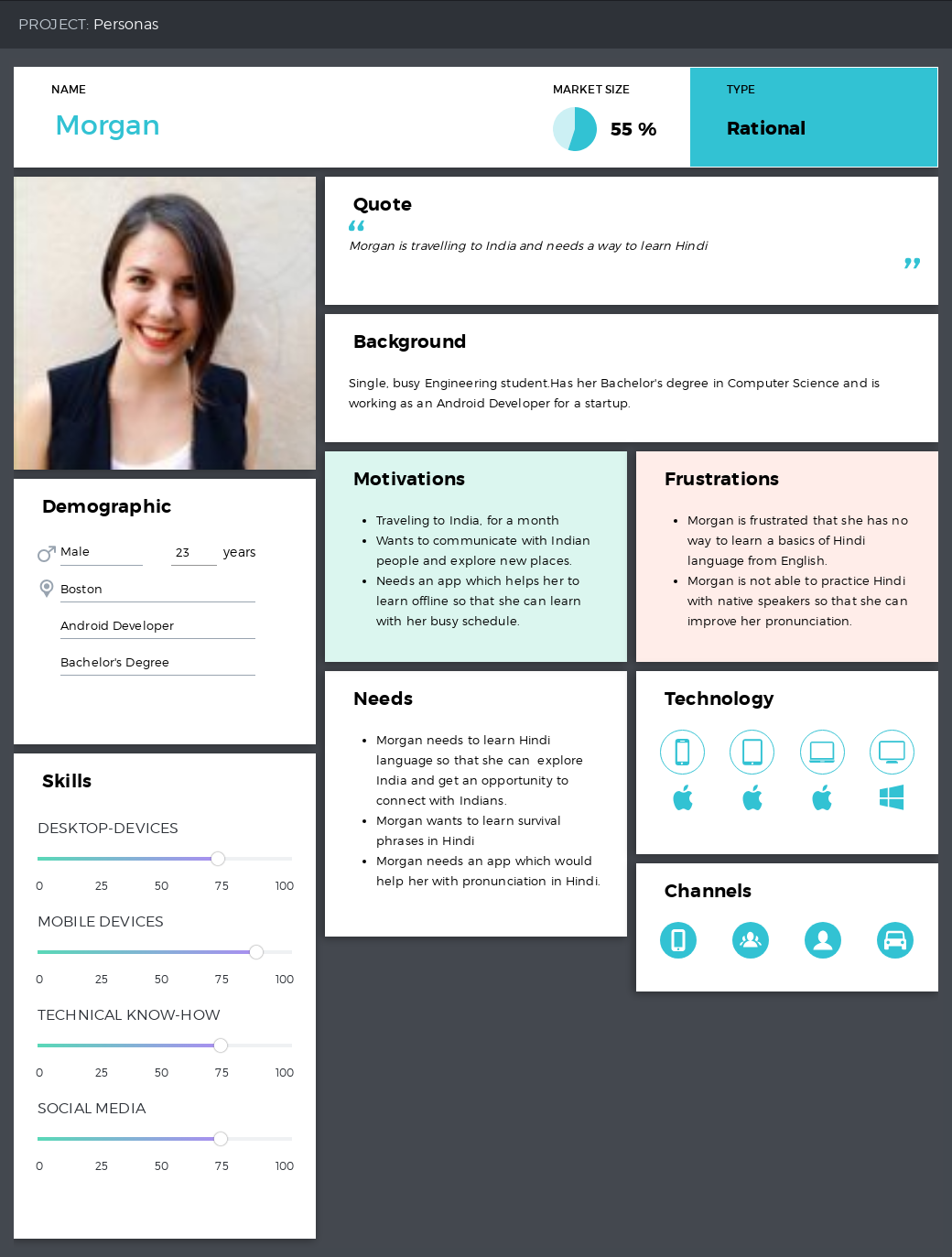 Personas
Morgan is traveling to India for her summer vacation and needs a way to connect with locals. So she plans on learning Hindi. She had a tough time to look up for resources that would help her learn Hindi. She was frustrated with the lack of options for learning Hindi.

User Journey
I devised the user journey of tasks and tested them with prototypes to find out which one works the best.
User Interviews helped us to determine some of the problems of the users. User Journey helped us to dig deeper into the problem. It helped us to get down the tasks which was important while designing the products.
Some of the user's goals are:
To learn a new language to have a memorable journey in the new country.

To connect with locals and explore a new country without any language barrier

To make it easy to learn a new language and make it as interactive as possible.

To learn survival travel phrases and the bare minimum of the language.

Customer Journey
In order to get to know our users' behaviour better, we created a Customer Journey Map.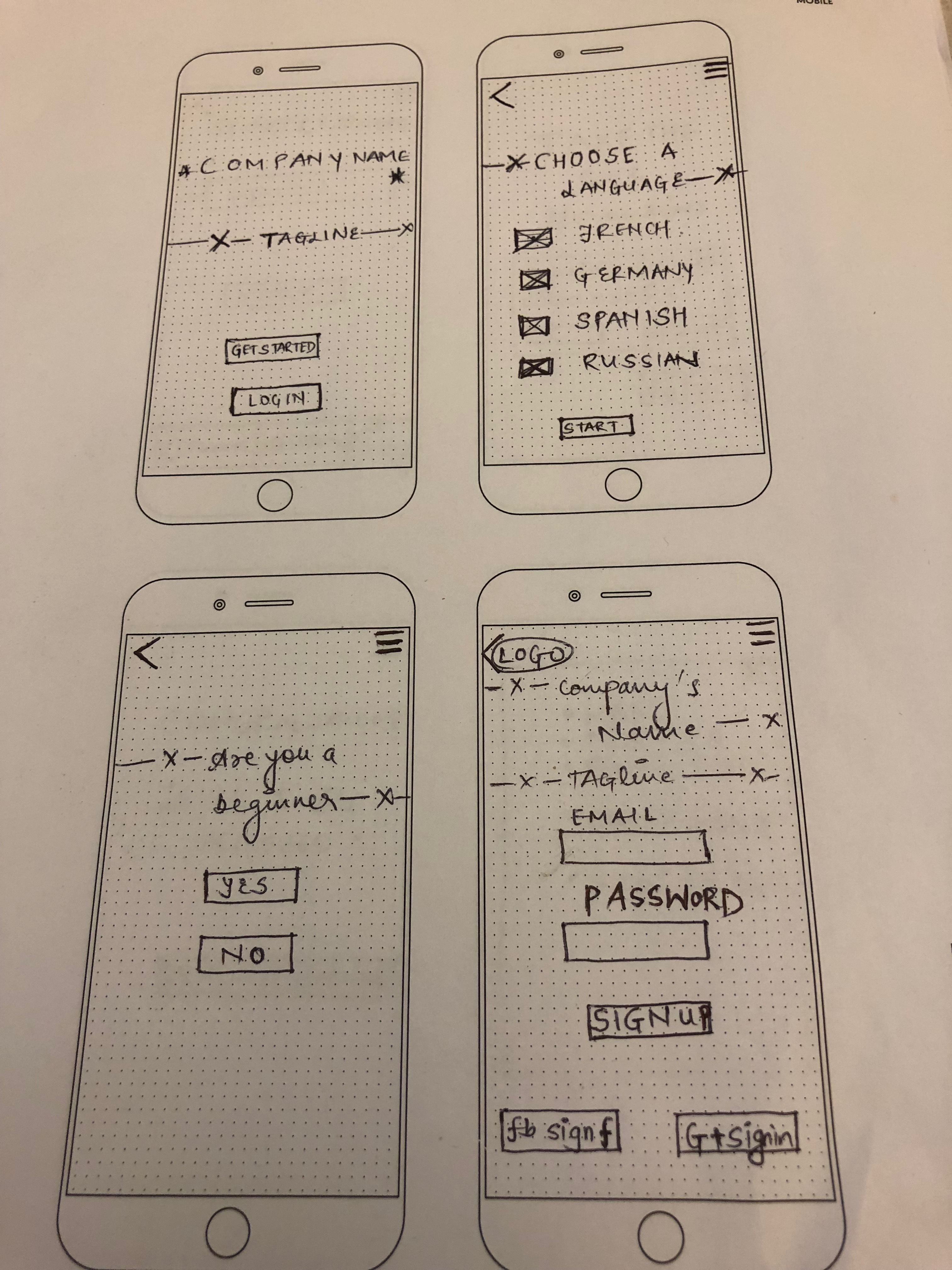 Sketches
Example
I usually start the design process with low fidelity sketches. This is the way I iterate through many design options quickly.
The sketch is used as the design tools for high fidelity prototype.

I used the low fidelity images and used it as the reference for high fidelity prototype.

I used Balsamiq for mid fidelity prototypes.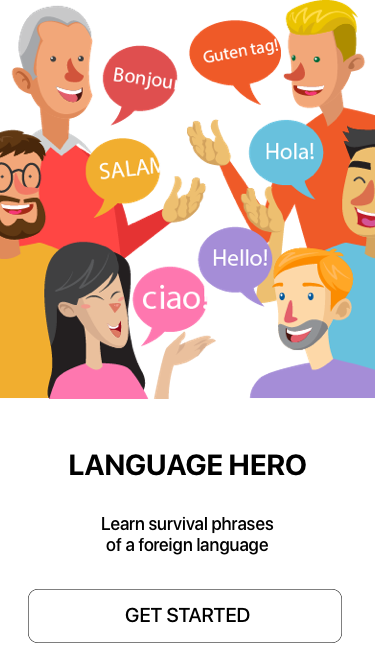 UI Design
Example:
Once I tested out all usability mistakes, I started designing the final screens in Sketch.
Guiding Questions:
Font Used for the Design: SF Pro Display
Software used for Design:Sketch
App was designed specifically for mobile app.
After conducting usability testing of the prototype,
Lo-fi Prototypes were created of the application and tested with travelers traveling to a new country.
Some of the feedback after these testing was that people really liked the survival phrases feature of the app and they need more phrases to be added to the app.
Plan for future: I plan on adding crowdsourced survival phrases which would help in increasing the database of a number of phrases. Also, another important feature user requested is adding the feature of scanning local signal signs which are usually in a foreign language.

I would love to add these features in the app in my next update.
"This App will help me to travel in India "
Traveler travelling to India