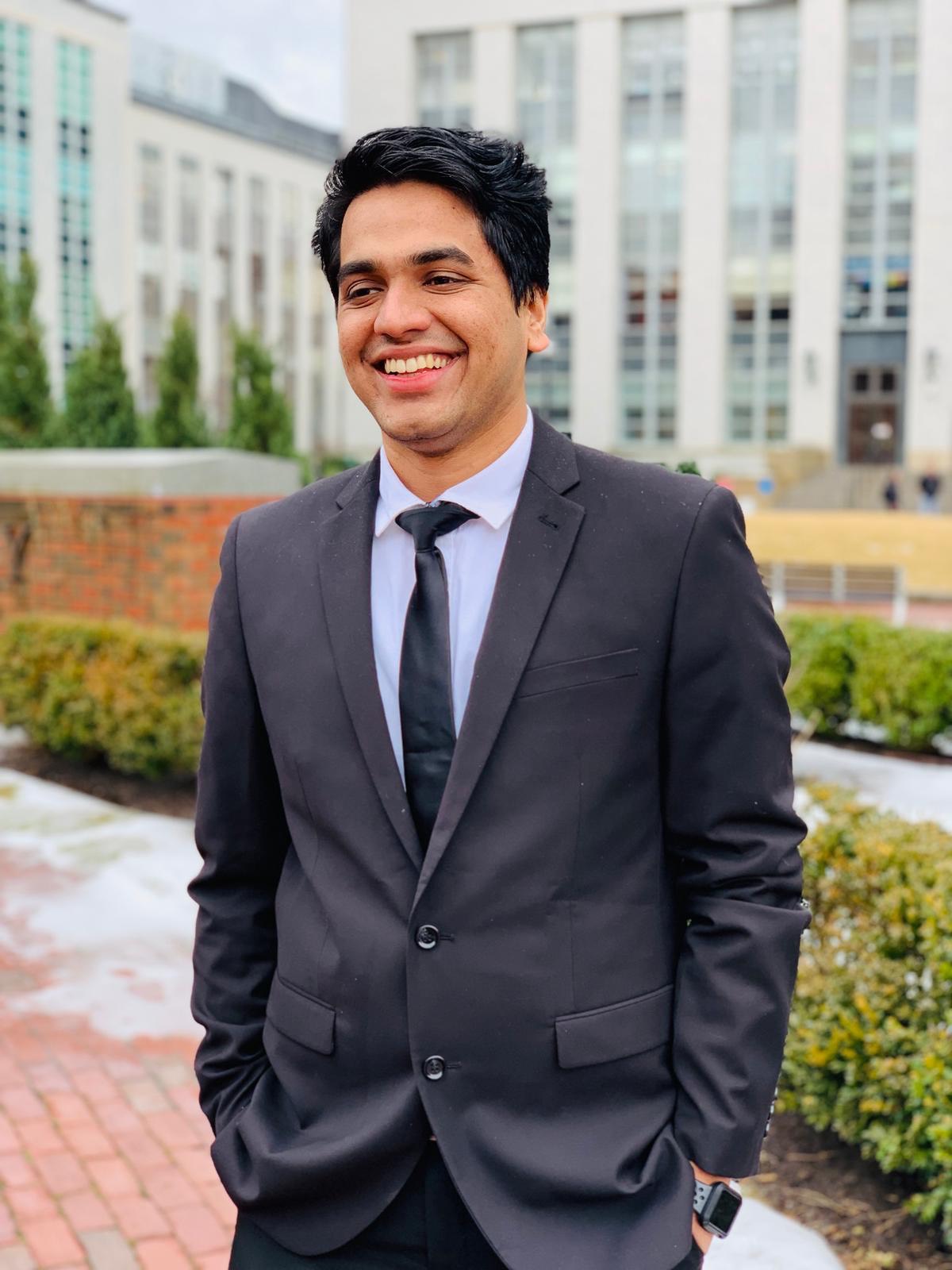 Anjaneya Naik
UX designer at TracFlo
Mentor Connection
Helping mentees to connect with mentors.
Mentoring can be a great way to share knowledge and help someone succeed in their personal or professional life. But many potential mentors are often too busy to commit to regular meetings, or they have a hard time connecting with people seeking help.
Design an experience where prospective mentors and mentees can be matched, based on similar interests, location, and availability — process and how you arrived at your solution."

How might we create an experience where mentors and mentees can be matched based on their preferences."

Role: Product strategy.User research & Analysis.Persona creation.Wireframes.UI Design & Prototyping.

Timeline: 7 days

Tools and Resources: Sketch and Invision.


Users Interviews
At the discovery phase of my project, I conducted user interviews to get a better understanding of the problem. I was fortunate to interview industry leaders and also had an opportunity to attend a survey that gave us a broad perspective of the problem.

Some of the things we were interested in knowing were some of the channels through which mentees connect with the mentors. Also, I wanted to know what were some of the barriers which mentors have while mentoring. Some of the insights from the user interviews were: Users have difficulties while looking for mentors in their particular field. One of the significant problems the mentees face is a lack of mentors' availability to help them with their needs. Mentors get bombarded with many questions from the recent graduates, and due to their busy schedules, they cannot help them.

According to one of the user interviews with Mentors, I received feedback that they are usually free on the weekends and can give around 2-3 hours for mentoring and helping with queries. After having a user interview with one of the mentors, I learned that there's should be an option of providing availability slots for mentors. It would give flexibility to both mentees and mentors.
Surveys
Example
After I conducted user interviews with the mentors and mentees. We set up an online survey and asked them to fill it out. Here is the link to the survey Link.
The survey ran for 3 days and I was fortunate to receive feedback from around 10 people.
Some of the keys findings from the survey are listed below.
44.4%
Mentees need help with
job search and also with running a business.
3-4
Hours average time mentors can spend for mentorship.
77%
mentors have already provided mentorship
2+
Channel users have used to contact mentors like Slack and Linkedin.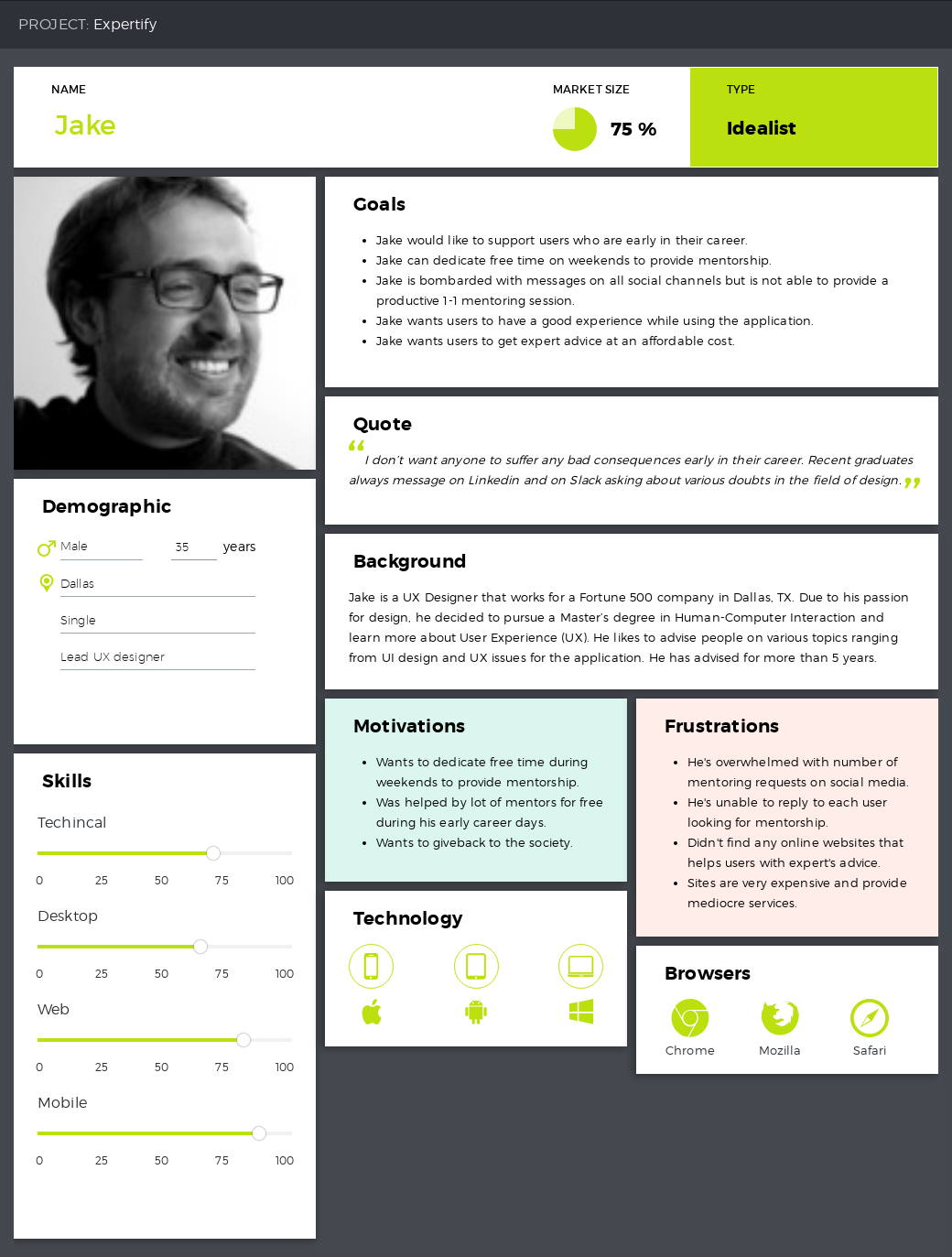 Personas No:1 Mentor
Based on the interviews/workshop, we set up two personas. We referred to them throughout the entire product development process.

One of the personas which we interviewed is an expert. Jake is a UX designer and wants to help users who need help early in their careers.

Jake is an expert persona view of the app and can help in the wireframing for the expert view. The information about each persona focused on its goals and frustrations with the product and their interaction with it, which drastically affected my design decisions.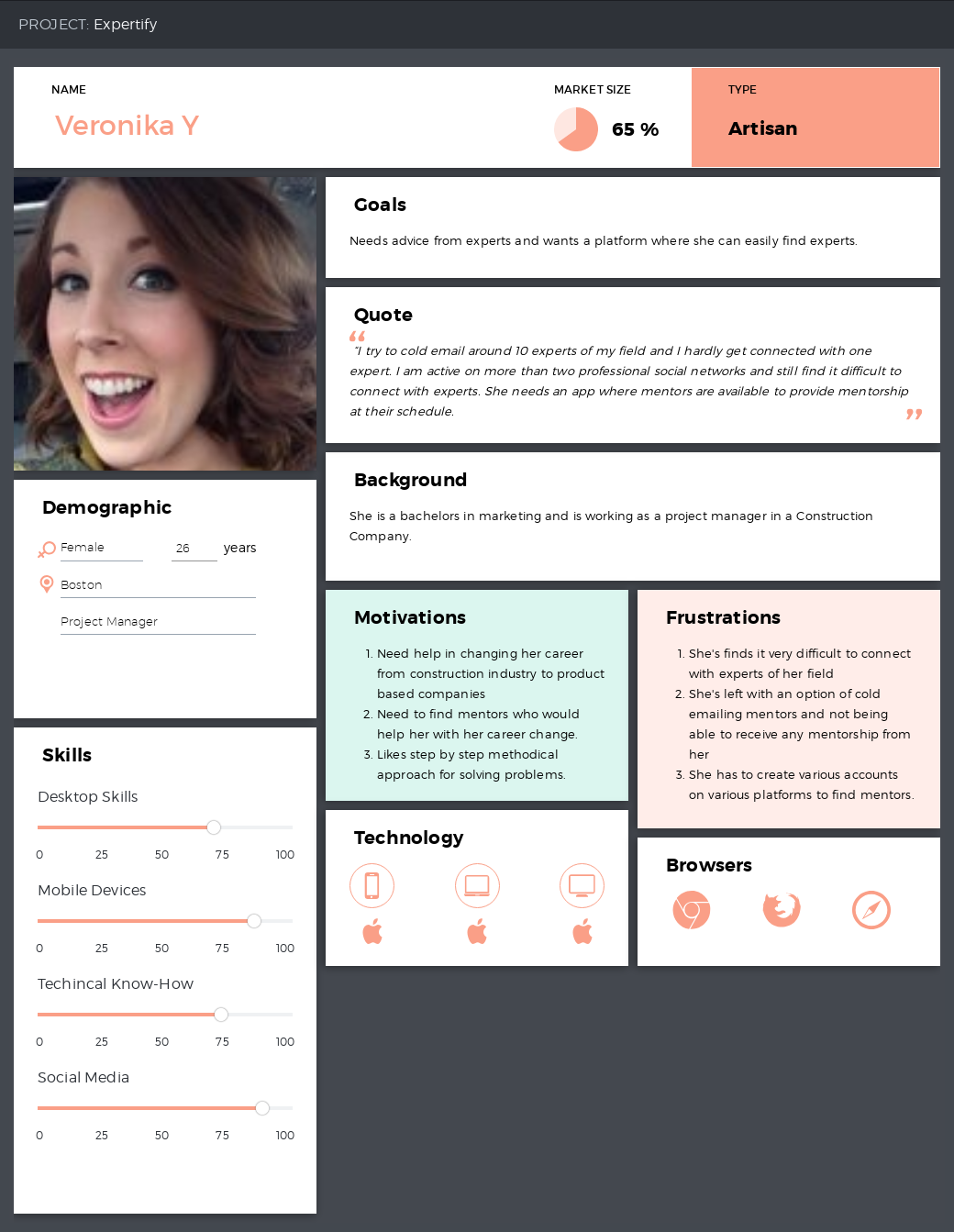 Persona:2
Veronika is a bachelor's in marketing graduate and is working as a project manager in a construction company. She's planning on changing her career from the construction industry to product design.

Veronika is not able to find experts in that field who can help her with problems. She usually is active on social media channels like Slack and Linkedin. She is finding it difficult to connect with mentors in the field.
Design Impact
What am I designing? An experience where mentors can help mentees according to their availability and want to help mentees with the same problem.

Who is this for? This is for mentors who are looking to help mentees and want to help them whenever they have time.

Where and when is this going to be used? It can be used by mentors online using the mobile app and whenever they have a stable internet connection.

Why is this important? Mentees have a lot of issues, and they are finding it difficult to get their doubts/questions answered by experts in their fields. Mentors, on the other hand, have very little time on their hand and receive requests from 100's mentors asking the same questions and their Focusing primarily on the interactional context of each persona helped me to understand the emotional state of the user at the moment of the interaction. This process has significantly influenced the development of important design decisions and critical functionalities.

Some examples are as follows: Mentors don't have more than 4 hrs for mentorship. Mentors get approached by mentees who have the same issue, and they have to repeat them with the same solutions. A lot of mentees have the same problems. Mentors usually want to provide remote mentorship, and there should be an option for the same.
Customer Journey
To know our users' behavior better, we created a Customer Journey Map. Customer Journey Map helped us to get to know more about the frustrations and usual patterns while finding a mentor in their industry.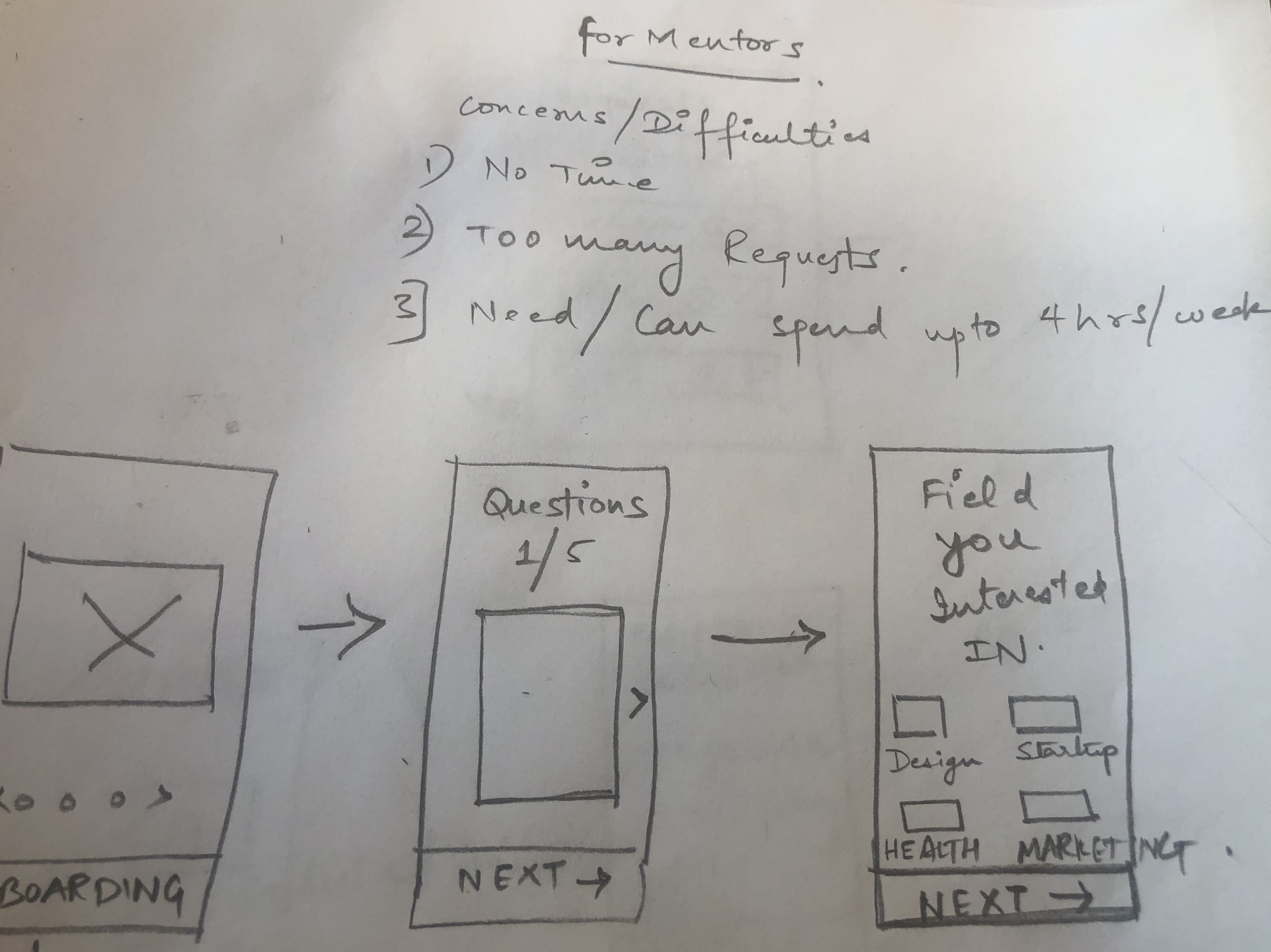 Sketches
Example
I usually start the design process with low fidelity sketches. This is the way I iterate through many design options quickly.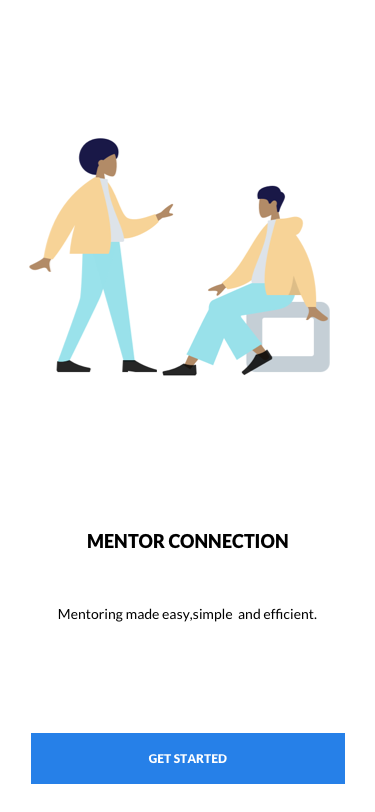 Wireframes
Example
At the beginning of my design process, I created wireframes for testing purposes. Wireframes were then shown to mentors and mentors gave us the following inputs.
I sketched each iteration and added the elements and screens that were necessary to reach users' goals, to quickly see which ideas worked best. I put the sketches into inVision to build an interactive prototype and tested some user stories.

Some insights
They want to spend only up to max 4 hours.




They don't want to spend answering the same questions to different mentees



They are more interested in helping people with the same queries in a group.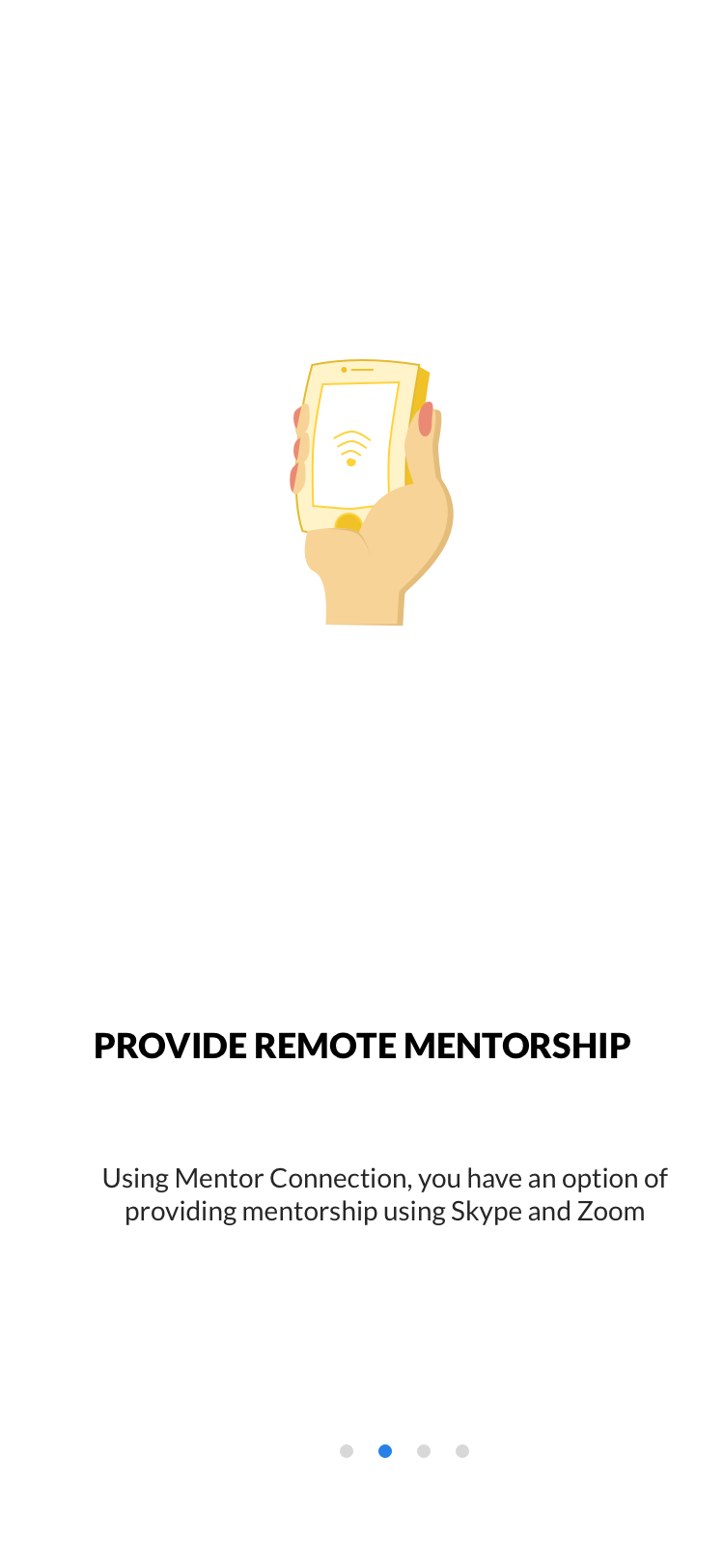 UI Design
Example:
Once I tested out all scenarios, I started designing the final screens in Sketch.
Guiding Questions:
Some of the things I kept in mind are that we ensured mentors have an opportunity for every mentor requests.
User interviews and conducting surveys helped us for designing ou
What have you learned from this project?
Explain what you had learned, experienced, or simply how you felt during the project.
Research is a must: – I couldn't have designed the product without the help of the people who are actually facing the issue. The user survey revealed unexpected information and made it possible to adapt the product to users' needs.


Personas are powerful: – Being aware of users' needs and pain points helped me to create a seamless, end-to-end experience.


The user is always right: – Conducting user interviews and evaluating users feedback at various stages helped me to discover and eliminate pain point.
"I want to help users early in their career so that they don't make mistakes and guide them to success "
Jake one of the mentor,I got a chance to interview.