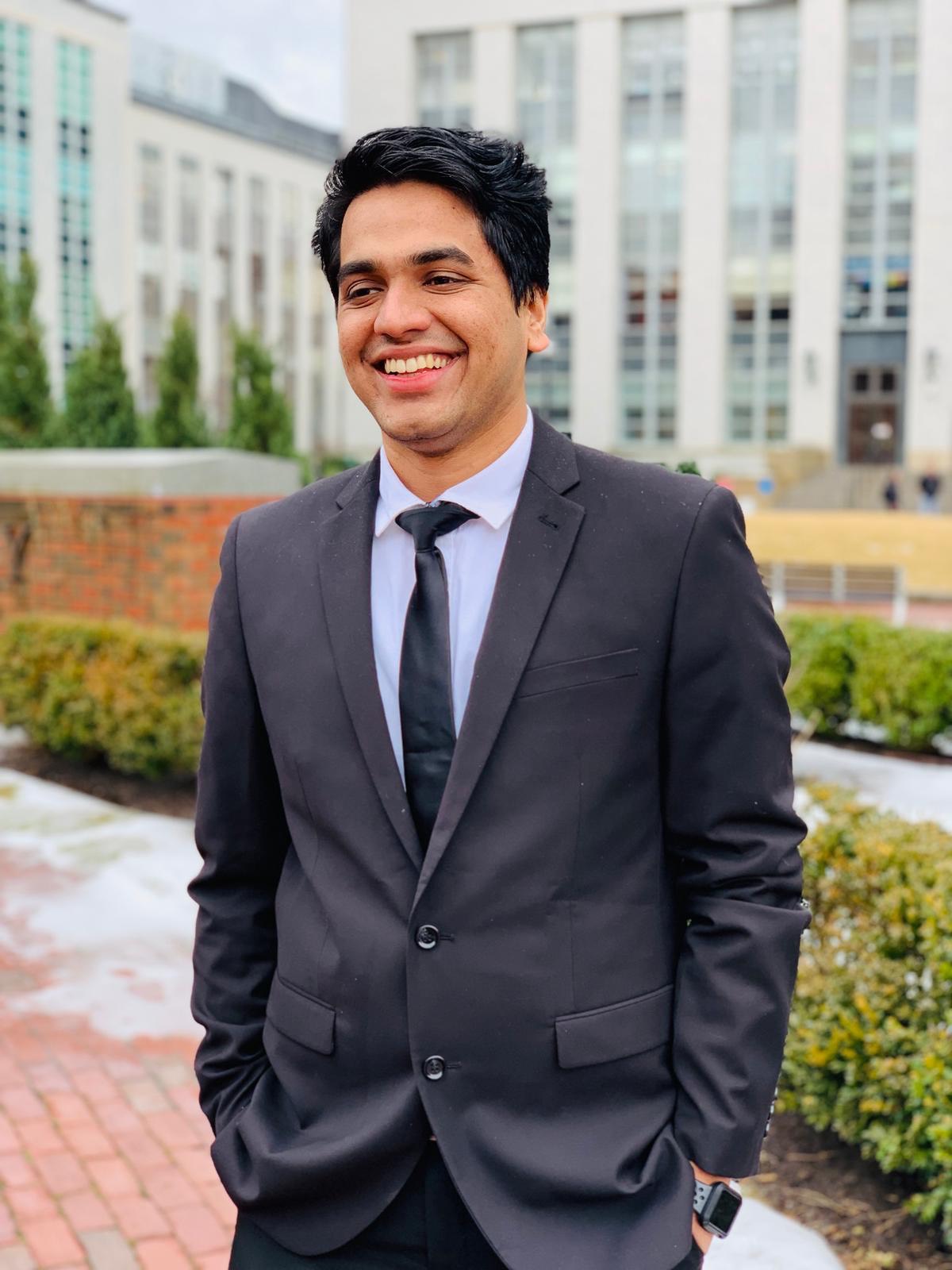 Anjaneya Naik
UX designer at TracFlo
Expertify
User problems solved by experts of the field.
Expertify
Expertify is an attempt to help users to connect with experts and get their problems solved. Experts on the platform have years of experience. Users nowadays face a massive challenge of getting their issues resolved. Whenever they encounter an issue, the first thing that they do is go online and look up for solutions. Users have to navigate through hundreds of articles and answers to find their solution to their problem.
Expertify is a platform where experts can help users. The user can book a 1:1 session with experts and get their problems resolved.
Role: Research, Ideation, User Research, Visuals, Prototyping

Time-Line: Fall 2018 (September - Dec2018)
Tools: Sketch, Invision, AdobeXD, Optimal Sort(Card Sort) ,Google Docs
Design Challenge
How might we create an enjoyable experience while solving user problems using experts advice?
Surveys
A survey was conducted with users with the following research goals.
1. To find out how users are solving their issues.
2. This user interview will help us get to know whom people are approaching once they come across a problem in their sector.
3. To find out what is the most common way to solve user problems.
4. To find out the price range which the users are willing to pay for premium advice.
5. To find out experts in each domain and what are they currently doing to help others in their community.
Survey Results
In the beginning, it was tough to find experts who have advised users on various topics. However, thanks to the UX community(
DesignerShip
). I was able to connect with experts. After speaking with users, I was able to
conclude that users usually get overwhelmed by the number
of online responses and are flooded with many different opinions
for their problem.
After talking with users, I concluded that users usually first try
to solve their problem on their own, then ask their friends and experts in
their family circle, before finding solutions online. If they don't see any
help in their circle, they start their search online. Google and Youtube are
the go-to places to search for solutions for the problem. Also, only if the
answer solves their problem, people are happy with it.
Bombarded with many answers for a particular question makes users confused. For users to get a direct answer to their problem
, it's recommended for users to have online platform access to
experts who can solve problems.
Interviews
Example:
At the discovery phase of my project, I conducted user interviews to get a better understanding of the problem. User Interviews were conducted with 5+ users from different backgrounds with the help of UXPA community. User interviews were conducted on slack, skype and User interviews were conducted to know more about the user's perspective and their process while finding experts and their difficulty in finding experts in their field. Some of the user interviews questions were.
What is the first thing you do once you face an issue with your work /or you need help in your business?
What are some of the first things which you do once you face a problem?

What are some of the apps which you use that helps you in solving your problems?

What's your experience finding answers to your problems online? Was it helpful or did you get lost with hundreds of resources online?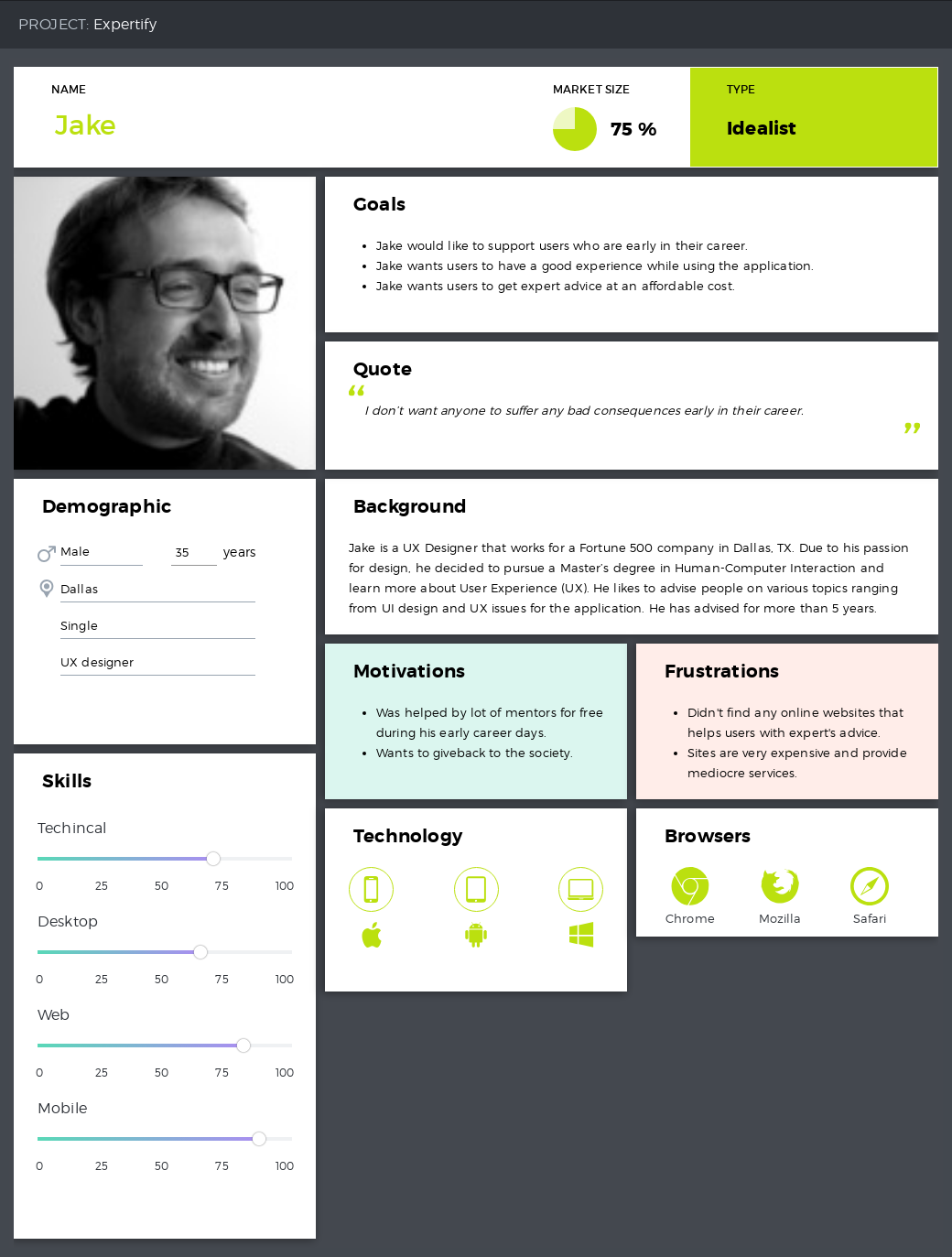 Personas
Example
Based on the interviews/workshop we set up 2 personas. We referred to them throughout the entire product development process. One of the personas which we interviewed is an expert. Jake is a UX designer and wants to help users who need help early in their career. Jake is an expert persona view of the app and can help in the wireframing for the expert view.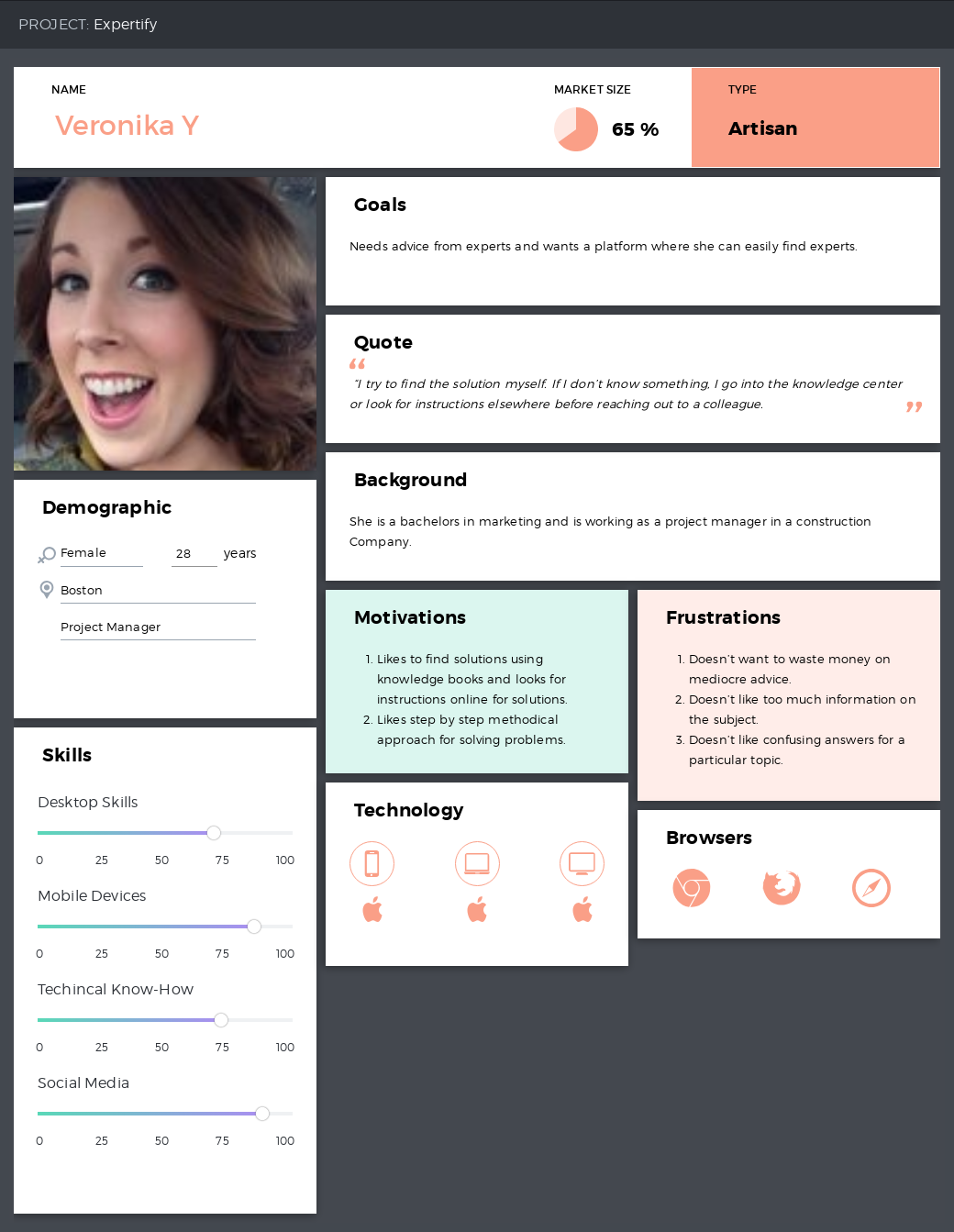 Personas
Example
Veronika is a bachelors in marketing graduate and is working as a project manager in a construction company. She is not able to find experts in her field who can help her with problems.
Customer Journey
Example:

In order to get to know our users' behaviour better, we created a Customer Journey Map. Here's the customer journey map for our user, which helps us to know about difficulties while searching for his problems.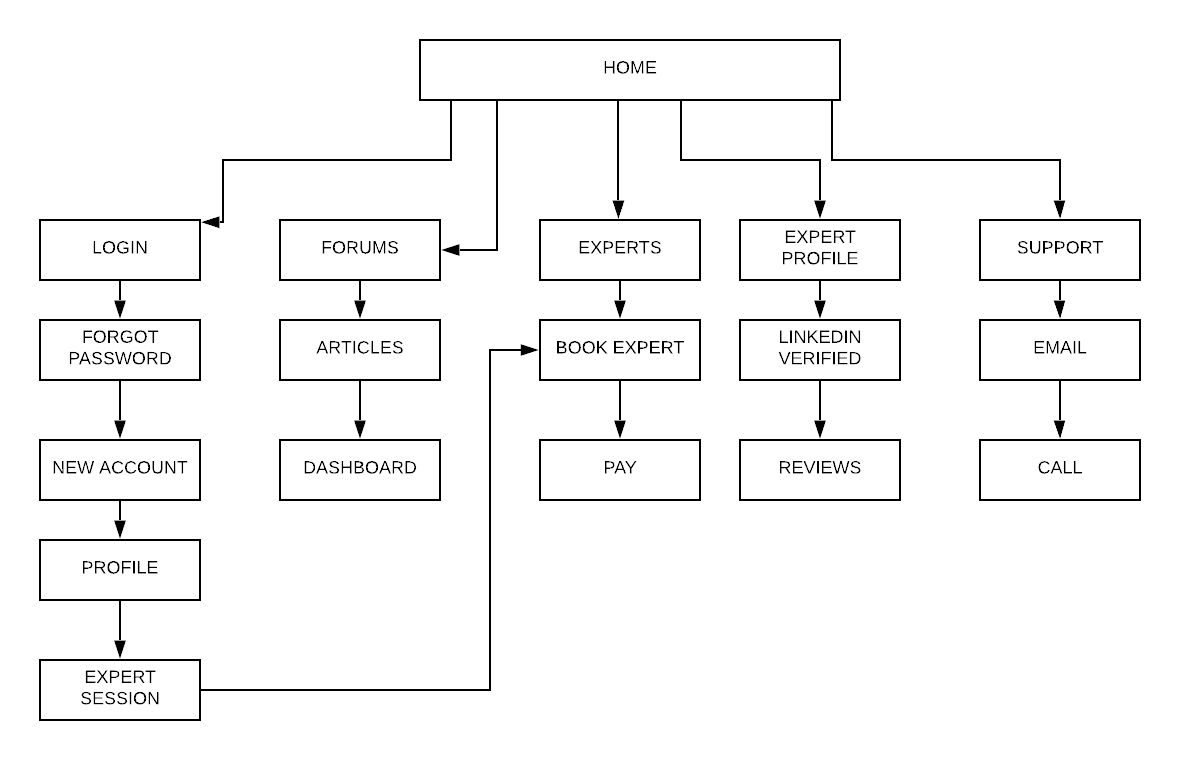 Information Architecture
After conducting user interviews, we completed creating both user personas and customer journey flow for the app. That led to creating a basic information architecture diagram for the app. This was then tested by performing a card sorting exercise with our participants.
Card Sorting
Example
I decided on the main categories of the webshop with a Card Sorting session. Card sorting exercise was created using 23 cards and was able to recruit 9 participants.
Guiding Questions:
The primary purpose of the card sorting was to ensure whether users have easy navigation through the app and they don't get confused with different categories and their functionalities.
We used open card sorting, where users had freedom of categorizing the cards according to their wish.
We used Optimal Sort for this exercise and were able to recruit 11 participants for this exercise.6/11 people completed the training, and they took an average time of 3:25 mins.
Here's the link to Card Sort the https://xwzb1y51.optimalworkshop.com/optimalsort/3aoek5mt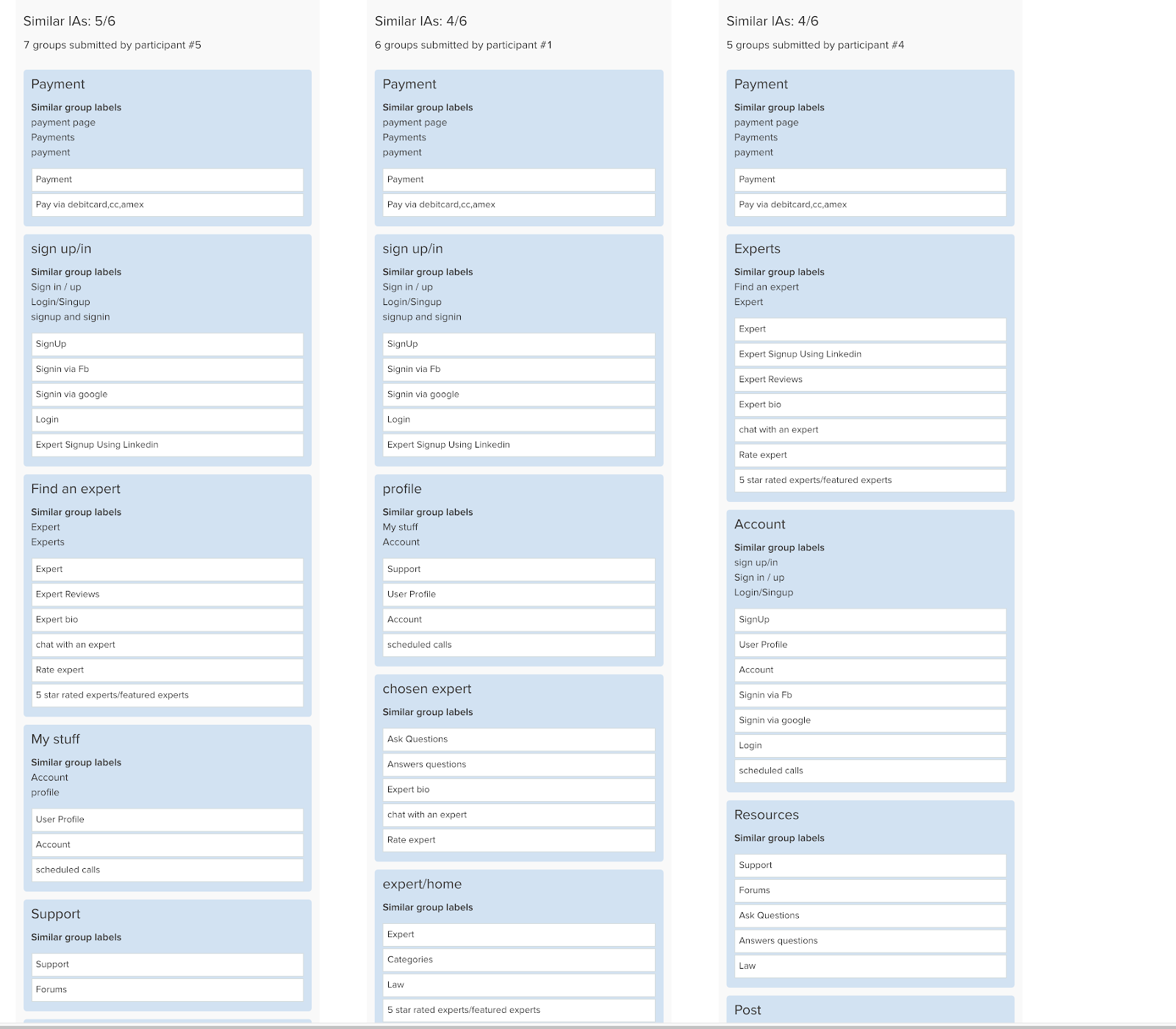 PCA
PCA gives the right information of how the categories have to be divided and cards in each of the particular cards were beneficial to convert into various groups which helped create prototypes. Here is the screenshot which explains you about it.
Card Sort Analysis:
I created a card sort analysis with 23 cards and with an open sort of choosing participants to develop a list of categories. I was able to recruit around 9 participants, but unfortunately, only six were able to complete the exercise. After conducting an open sort card sorting, I was able to conclude, there have to be specific changes into the number of categories on the app. I was able to finish, there should be three categories on the mobile app namely forums, experts and calls. Card Sorting is very helpful for the sitemap design of the app. Open card sort was beneficial since users were able to sort categories according to their convenience and made it easy for me to design. Some of the cards which the users got confused were the one 5 stars rated experts and account.
Improvements to Site Map based on card sorting
1. Make a new category from account to separate groups and separate accounts for experts and users, for example making a separate app for both.
2. Simplify the type of experts in a kind which is more simplified and has more than clear information about experts.
3. Change the buttons from asking an expert to forums.
4. Add answer question button under forum page.
5. Create a new button and name it as forums.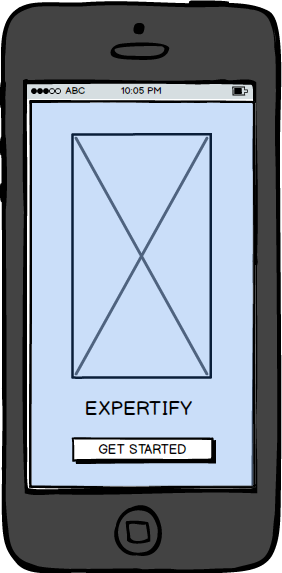 Wireframes
Example
At the beginning of my design process, I created wireframes for testing purposes.
Guiding Questions
Why was it useful to do this?

Wireframes were created to test features and conduct the usability testing on the products.

I made mid fidelity wireframes using Balsamiq.

I used these wireframes for testing out with our users.It was very helpful

Did you use them for testing?




How many iterations did you have?



"I want to help users early in their career."
Jake UX designer wants to help users.